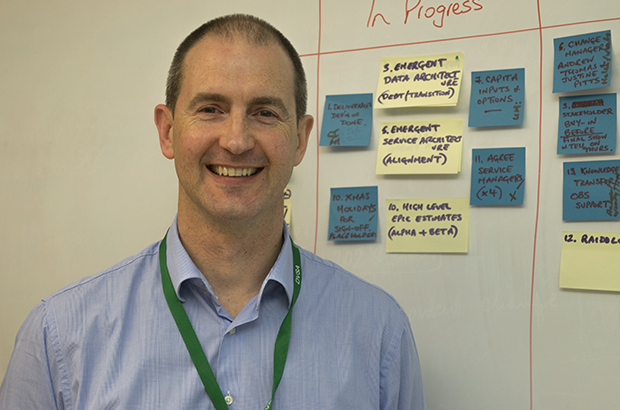 I joined the Driver and Vehicle Standards Agency (DVSA) on 1 November 2016 as Head of Digital Delivery. As I'm now a couple of months into my new job, I thought I'd share some of my first impressions.

My first Civil Service role
I've worked for quite a few large companies in the past including a major high street chain - Boots.com and E.ON. amongst others. I worked at E.ON. as the chief product owner with a group of staff on their major website development programme.
So, why did I come to DVSA? Well, I decided it was time for a change and, as I'm up for a challenge, I thought I'd like to work for DVSA's digital team.  I thought this would give me the opportunity to tackle some large scale projects to transform and improve some well known products and services, such as the MOT service.
I knew they'd been going through a process of modernisation which all seemed quite forward thinking and was keen to learn more. I was also impressed by the team using aspects of best practice.
I spoke to my line manager to find out what his experiences were. He explained how DVSA was growing its digital capability - increasing staff numbers and providing appropriate office space to follow the 'agile' way of working. He was really positive and very impressed by the transformational change in this area. This was something I wanted to join from an early stage and help shape the future.
Agile: a new way of working
I'm really impressed how well DVSA has adopted agile working.
This is the delivery process we're now working to. The old 'waterfall' approach processed any new development or idea from  A to B to C to D using appropriately skilled people at the relevant stage of development.
But Agile enables us to use a group of multi-skilled people such as developers, testers and analysts who all put together their ideas and thoughts, making sure things work properly along the way.
And it's also embedded a continuous improvement process such as reducing the release cycle from 6 months to every 10 days. This is a fantastic achievement and a real indicator of success.  This was one of the things that attracted me to this job.
What's great about being here
My first impressions have been really positive - and that includes people, processes and technology, such as the use of cloud services. It's also nice to have this recognised by recently winning the Cross-Sector Digital Collaboration award at the DL100 Awards, and being highly commended at the UK IT Industry Awards.
It's great to be based in the middle of the city. While it may not mean much to some people, I think it's fantastic to work somewhere where there's a range of lunch options and coffee shops around (I'm so used to working at out of town sites with no facilities).  I can so easily get out of the office and go for a walk to get some fresh air!
It's fantastic to work somewhere with great public transport links - I can get to work on the bus in less than half an hour instead of getting stuck in traffic jams.
What I'm looking forward to working on
A big priority for us at the moment is to have a digital pipeline of change programmes, prioritised for delivering, user needs, government policy and value. Work is already well underway.
I'm currently working on the latest discovery phase for a new digital programme which coincided with me starting here. So, it's great timing to be involved in something from the very start and see it through to completion!  Working across a wide range of products and services covering bikes, cars,  commercial vehicles and much more!
Building our internal capability
We need to build DVSA's internal capability and sustainability to own and develop our own digital services. This means we won't have to rely so much on external vendors whose services we buy.
I've been supporting recruitment for the digital graduate programme and other DVSA staff positions. 9 graduates start this month and we'll be advertising more roles very soon!
Follow DVSA digital on Twitter and don't forget to sign up for email alerts.