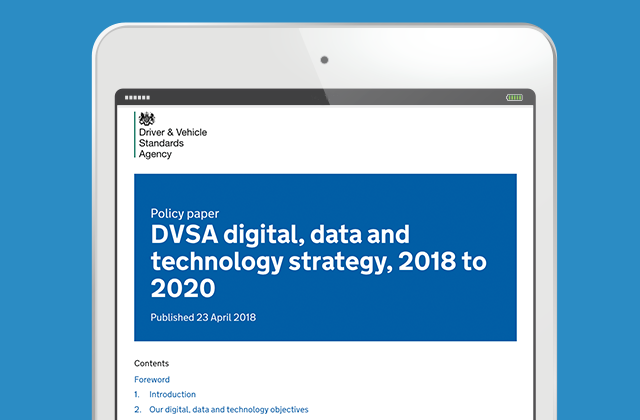 We recently launched the Driver and Vehicle Standards Agency (DVSA) digital, data and technology strategy.
It sets out our vision to become a digitally-enabled organisation. It tells you about our ambition to:
transform our services for our users
help our people work more efficiently
provide world-class digital services
The strategy covers 2018 to 2020 and puts our users' needs at the heart of everything we do.
It supports DVSA's 5-year strategy (which we published in March 2017) to help you stay safe on Britain's roads.
The importance of being digitally-enabled
In an increasingly digital age, it's important that our tools and technology are current, and are able to keep up as technology changes.
We're already seeing technology advances where vehicles are able to do a lot more things on their own. This is only set to continue, with dramatic improvements to driver-assist features, in-car connectivity and vehicle-to-vehicle communication.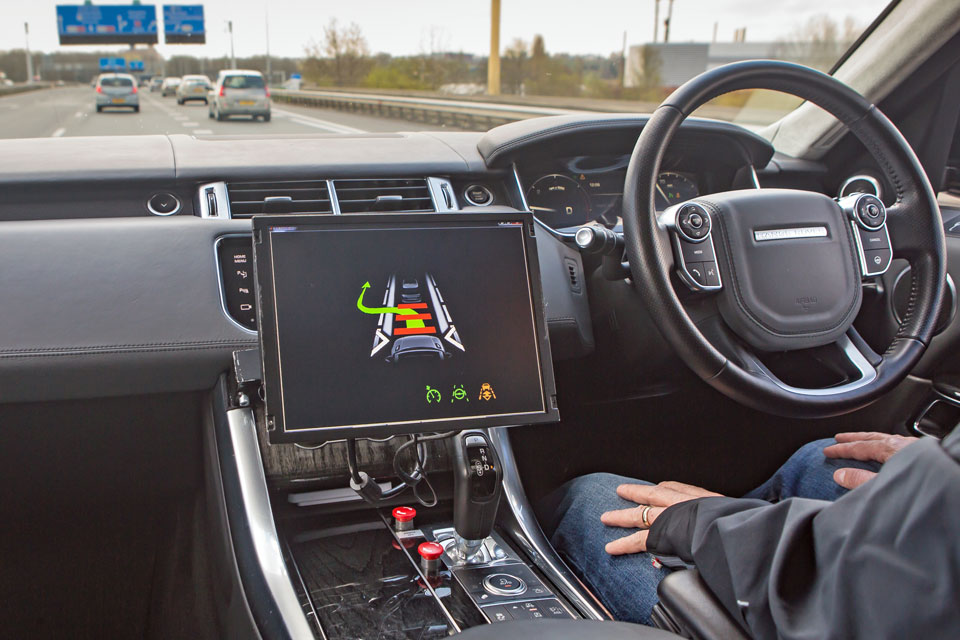 To help keep vehicles safe to drive, we need to make sure driving training and testing remain current, and that the MOT adapts to being able to test vehicles that are becoming increasingly reliant on software.
The way we interact with businesses who use our services is becoming more digital. They need services that allow them to be more flexible and efficient.
Meanwhile, learner drivers want to be able to book their theory and driving tests online, and many already do. But they also expect to have easy access to information that will help them keep safe through their driving lifetimes.
Our frontline staff need the tools to help them protect you from unsafe drivers and vehicles. Access to equipment that allows them to carry out their work efficiently, and mobile-friendly services and platforms they can easily connect to wherever they may be, are a must.
As an agency, we need to build even better relationships with both our internal and external partners. Providing technology solutions that create a culture of understanding and where we can work better together is key.
We need to use and share high-quality data so we can make better decisions based on our users' needs so we can deliver the projects and services that will give the most benefit.
In short, we need to provide modern, efficient and sustainable technology to support our mobile workforce and build brilliant digital services for our users.
Our strategy at a glance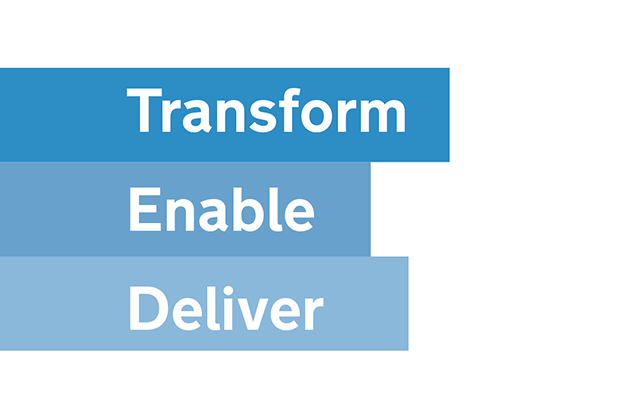 Our strategy sets out what we'll do to help you stay safe on Britain's roads.
There are 3 mains themes - and each has 3 main objectives.
Transform
We'll create and run more great digital services for drivers and riders, vehicles and enforcement.
To do this, we'll transform:
drivers and riders services by making information available to learner drivers, improving driving test availability and modernising the theory test
vehicle testing services by continually improving our digital MOT service and introducing new digital commercial vehicle testing services
enforcement and compliance services by continuing to improve the vehicle operator licensing service, improving roadside checks and supporting our strategic traffic management and remote enforcement offices
Enable
We'll improve the way our people work through improved digital services, technology and data sharing.
To do this, we will:
make mobile working easier by making sure our driving examiners, vehicle standards assessors and traffic examiners have reliable devices and tools that can access our services whenever and wherever they need them
make working together easier by giving our people the mobile technology to connect wherever they are and develop job-specific apps and services
share and reuse data by investing in self-service analytics and data science capabilities, and give our people access to data that will enable smarter enforcement and better decision-making
Deliver
We'll deliver end-to-end services, backed up by plans, principles and the right technology.
To do this, we will:
provide efficient and reliable capabilities - we'll do this by making sure our people have more reliable laptops, PCs and mobile devices. get the right technical support when they need it, and we'll reuse, rent, buy or build services to get the best value for money
follow clearly defined plans and principles to guide us as we set about making significant changes
use the agile approach to build and run our services so we can build quickly, test what we've built and iterate our work based on regular feedback - this will let us keep our services current when policy changes and technology develops
What our strategy depends on
To deliver the strategy depends on a number of things. We need to:
make sure our people have the right skills and work as one multidisciplinary team
adopt a flexible approach to how we do things
plan and manage changes effectively and work in an agile way
make sure our technology meets user needs
have high-quality data and use it to make better decisions
manage our commercial relationships so we get the best value for money
Building on our foundations
We've already been working towards delivering our strategy and have put some solid foundations in place on which to build.
I'll tell you more about that in my next blog post, and the progress we've made on a number of major projects. But for now, please take a look at the DVSA digital, data and technology strategy and leave your feedback or questions in the comments.
Keep up to date with our work by signing up for email alerts or following DVSA digital on Twitter. You can also follow James on Twitter @jmunsonuk.