We launched a road safety campaign in late November urging drivers who tow trailers to carry out basic safety checks. It followed the tragic death of 3-year-old Freddie Hussey in January 2014.
In this post, we want to explain more about the approach we took to this campaign, and what the early results are showing.
A campaign for Freddie
Since Freddie was killed, his parents have been campaigning to make people aware of the dangers of unsafe trailers. They asked the government for help to make more people aware of the importance of carrying out basic safety checks before setting off.
We knew that Freddie's story was a very powerful reminder about what can happen when things go wrong. So, we started to develop a campaign plan asking people to tow safely to avoid a repeat of the tragedy.
Designing content to help keep you safe
We needed content for our campaign. Our Content Design team started by reviewing the content on GOV.UK about towing with a car. As a result:
we designed a new guide about safety checks drivers should carry out - it's a webpage so it can be viewed easily on mobiles and tablets
the Government Digital Service (GDS) updated the main GOV.UK guide about towing with a car to link to our new guide and highlight the penalties for using vehicles in a dangerous condition
GDS also created a short URL of www.gov.uk/towing to take users to the main guide. This gave us something short and memorable to use in campaign communications.
Video content
Our Content Design team also designed and produced a short video (25 seconds) to show which safety checks should be carried out. This was embedded in the guide on GOV.UK, and can also be found on YouTube.
Finally, the team created an even shorter video (17 seconds) to be used on Twitter and Facebook. Most videos watched on Twitter and Facebook are played without the sound on, so this video was designed to work without sound - although there is narration for users who choose to play the audio.
We were then ready to launch the campaign.
Using Thunderclap to amplify the message
We launched our campaign with a news story on GOV.UK, and press release issued the media.
We used the DVSA Twitter and Facebook accounts to direct users to the content, as well as our email alert service. This was supported by messages on The Highway Code Twitter and Facebook accounts.
We were also supported by influential Twitter including Road Safety GB, the Federation of Master Builders, the British Safety Council, ITV News for the South West, and Karin Smyth MP, the Hussey's constituency MP.
However, with such a powerful story, we knew that the best way of spreading our message was to ask every user to share it. That's why we decided to encourage users to support a Thunderclap - a way of our contacts sharing the same message and a link to the guidance at the same time.
Explaining the thing
We began by using our Twitter and Facebook accounts to encourage users to sign up to the Thunderclap. We found that they were either liking, sharing or retweeting the posts - but they weren't actually signing up to the Thunderclap.
We then started to refine our messaging to do a better job of explaining what Thunderclap is. Our updated explanation was:
Thunderclap posts a one-time message to your Facebook or Twitter account at a specified time - in this case, Wednesday 7 December at 8:30pm. This is so the cause starts to 'trend' on social media websites, so more people become aware of it.
At that point, we started to see an increase in users actually signing up. We followed this up with an email alert asking our subscribers to sign up.
By the time the Thunderclap went live, there were 1,011 supporters.
Campaign reach and engagement
It's still very early days in the campaign. However, we want to share the campaign's reach and engagement so far.
News story
There have been 8,739 page views of the news story on GOV.UK.
Safety check guidance
The guidance on carrying out safety checks has had 6,294 views. Nearly 1,400 of those were on the day of the Thunderclap.
Around 62% of views have been on a mobile or tablet, which highlights the importance of publishing as a webpage rather than PDF.
Users have been spending an average of 2 minutes and 52 seconds on the page, which suggests that they're taking the time to read all of the content.
To date, there have only been 7 searches started from that page, which suggests that users are finding what they need there.
Video on YouTube
The video hosted on YouTube (and embedded in the GOV.UK guide) has been viewed 1,792 times - and by the end of the video, 9 out 10 users are still watching. Around 57% of views are from mobiles and tablets.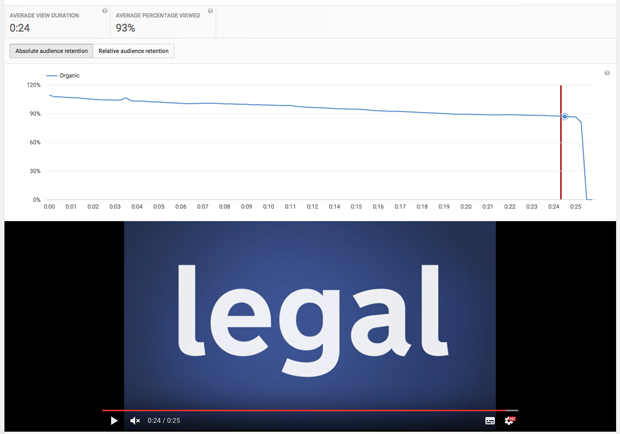 Social media views and reach
Our Facebook posts have reached over 105,000 users.
The video used on Facebook has been viewed just over 12,400 times. Of those, 93% of views were with the sound off, which highlights the importance of the video working with no audio.
The average watch time is much shorter - around 5 seconds. However, just over 52% of users watch until the last safety check is shown.
On Twitter, there have been over 162,000 impressions of our tweets.
The video used on Twitter has been viewed just over 5,000 times. By the end of the video, only 1 in 10 users are still watching.
Next steps
In the New Year, we'll look at how we can shorten the video for Facebook and Twitter.
We'll also be looking at what we can do to continue spreading the word. We particularly want to reach people who are taking things to the local tip, and those who are regularly towing for work - for example, mobile caterers.
If you've supported the campaign so far, thank you. If you haven't yet, please do share the content to help protect others from unsafe vehicles and drivers.
Follow DVSA digital on Twitter, and don't forget to sign up for email alerts.