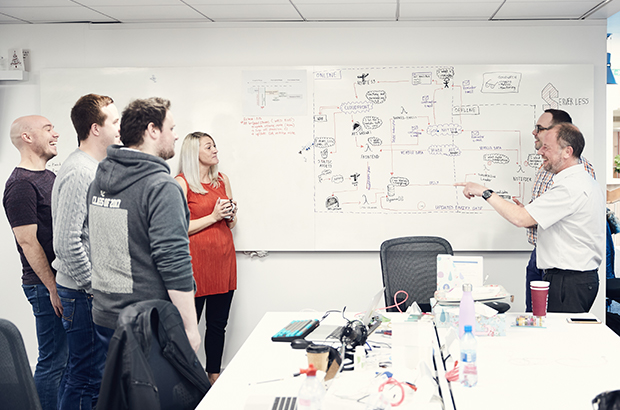 I'm Ken Roberts, a Digital Delivery Lead in DVSA's software delivery team. I joined DVSA in September 2017 and want to share my first impressions of the agency and team with you
A bit about me
I've previously worked in large blue-chip organisations, and I'm new to the public sector.
I've always worked in IT and have had a variety of roles. I started as a programmer and analyst, managed an IT operations team and a digital development team, then worked as a Scrum master and then as a principal analyst and agile coach.
I've always enjoyed working with a team to either deliver an existing service or create a new one.
Joining DVSA
When I was approached about the role, I was really interested; I find working with a motivated development team energising.
I wasn't aware of the transformation work that had gone on at DVSA and was impressed to hear the teams had developed digital services in the Amazon Web Services (AWS) cloud from scratch. To be honest, it really challenged my perception of the public sector… and I wanted to find out more.
At the interview I began to understand the scale of the challenge better.
The ambitious scale of transformation, the real value of transforming services, and the guidance from the Government Digital Service on creating and running great digital services all created an extremely interesting picture. Challenging, to be sure, but also very interesting.
Services that matter to millions of people
Transforming services on this scale is something that plenty of companies talk about, but here's a government agency actually doing it with services that matter to millions of people.
Agile working has been the norm in IT for some time now. Many organisations struggle with adopting an agile approach and there are plenty of reasons why that can happen.
I was impressed to see how Scrum is being used at DVSA. The thing that struck me most was how much of a partnership there is with the DVSA operations teams. Agile practices make everyone part of the delivery team - with digital, policy and operations working as partners.
At DVSA, I've seen some great examples of commitment to this way of working, especially from Steve Fox (Product Owner) and Ian Atkinson (Service Owner) in the vehicle operator licensing service.
I've also worked with some great suppliers so far at DVSA, including BJSS, Kainos and Valtech. The experience and expertise these partners bring really makes for an exciting workplace.
The challenge: building software delivery capability
One of the main challenges we have is to build our own DVSA software delivery capabilities. There are advantages to being able to do this ourselves in terms of reduced cost to deliver software. Ultimately this will also give us mature, stable teams who stay with a product for its whole lifecycle, focused on continuously improving it.
Right now we're at the start of this journey and it's a great time to join the software delivery team.
I've been involved in the work to transition our graduates into permanent roles within our delivery teams. I'll also be heavily involved with recruiting permanent colleagues across a range of experience.
Our use of AWS qualifies us for the AWS Partner Network and I hope that I can help to arrange this for colleagues at the DVSA. This would unlock training resources and learning paths that aren't available to companies outside of this network.
I also want to encourage colleagues toward formal certification in the agile approaches we use. This means that we're all on the same page with the terminology and also means that we can all contribute to how we enact our working practices. I think this also makes it easier for us to champion these ways of working beyond the immediate team.
The way we're working will pose challenges for other parts of our organisation. Agile timelines are hours and days, not weeks and months. We need to help the organisation adapt and understand how we can add value together.
Come and join the team
If you hadn't realised by now, I'm really glad that I've joined the DVSA software delivery team.
There are challenges ahead, but these are challenges that we'll face as a team and overcome. I know this because of the fantastic start that we've already made and because of the talented people that we have within our organisation.
We'll be recruiting more people for the team soon, so sign up for email alerts and follow us Twitter to be the first to hear about the roles.