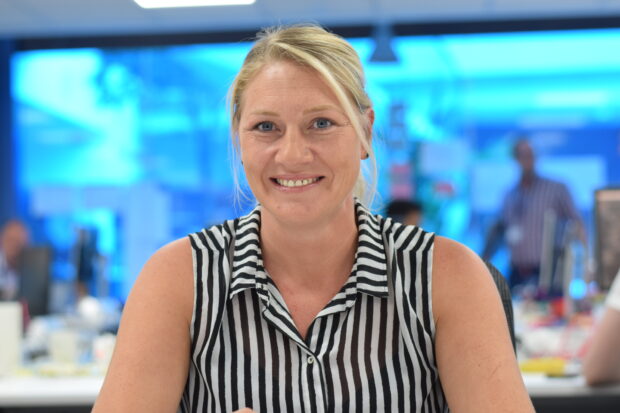 My name is Michala Reith and I've worked for DVSA (then VOSA) since 2006, starting my journey in The Office of the Traffic Commissioner.
How I got into the role
I've worked in digital roles for the last 5 years, initially supporting the change to the DVSA financial payment system. I then moved across to the MOT scheme as one of their agile digital product owners.
Along the way, I've helped to create services such as the free MOT reminder service for the general public. For the last 14 months, I've been based within the commercial vehicle service project as a Digital Product Manager for customer facing products.
Every day is different
One of the main reasons that I enjoy what I do, is that each day is varied and no two days are the same. One day I could be meeting with internal stakeholders understanding their needs for the new software and the next I could be in London watching user research sessions.
The main focus is to make sure that our digital products are easy to use, so that customers can carry out their tasks without needing further support.
I believe that as an organisation we are understanding this better - removing our own preconceptions of what our users' needs and wants are and listening to them more. It's rewarding to hear the feedback from our users such as "this is great, when can I start using this?"
Being a female in IT and digital development
Whilst I don't have the technical background in vehicle testing which many of current male colleagues have, this hasn't hampered me in my own progression. We've all had to learn new skills in agile delivery - focusing on customer needs and iterative development.
Before working for DVSA, I held roles for large accounting and banking organisations. I've been able to transfer this knowledge into my current role, simplifying processes and making it easier for our customers to work with our organisation.
Paving the way for others
I've found most administrative roles in DVSA are weighted more towards females, but once you start to look at specialist roles within IT and software development, there are still very few women working in these departments.
I have noticed recently that more females are joining these teams, which is helping to pave the way for others and shows that this is a career path that is open to everyone!  I do work alongside another female Product Manager who has technical qualifications and we're able complement each other's past experiences - benefiting our project as a whole.
Encouraging more women into STEM subjects
I really support the government's efforts to get more women and girls into STEM (science, technology, engineering, and mathematics) subjects. I think that females in general think this is a predominantly male area, and it shouldn't be! I've personally found that females are able to offer different perspectives to their male counterparts which creates a good mix.
'No one can make you feel inferior without your consent'
I was interested in IT growing up and gained 2 GCSEs in the subject although it did help that my uncle was also my teacher! I remember the first time he introduced me to the web, listening to the old dial up connection aged 13 and being enthralled at the possibilities.
I actually turned down an apprenticeship in software development aged 16 as I felt intimidated at being the only female in the office which is something that shouldn't be a barrier today. One quote that has particularly struck a chord with me is: "No one can make you feel inferior without your consent" – Eleanor Roosevelt.
In terms or aspiring to a particular female role model, I don't have any one person in mind. I would say my main inspirations come from being around people (male or female) that strive to be the best that they can be.
Outside of work
In my spare time, I play rugby league for Wakefield Trinity Ladies in the Women's Super League which helps me to let loose a little bit on a weekend! I'm sure a few people will have recollections over the years of me either being bruised, on crutches or in a sling!
I will be hanging up my boots at the end of this season though… That's in between balancing mum responsibilities to 2 children (17 & 9) and my work commitments!
For all the latest blog posts from DVSA Digital, sign up for email alerts